When we did a research on Louis Gan, we were awestruck to find out that he is only 25 years old and that he had not taken any formal art classes before. Believe it or not, he only learn his art by watching videos and practicing it on canvas! Further, this amazing talented guy is actually our very own Penangnite from Balik Pulau!
Despite having a hearing impairment, he proved that it was not a barrier to his dream of becoming an artist. He was only 16 years old when he won second place at the Malaysian-Japanese Art Competition in 2003 and he further went on to obtain his diploma in Graphic Design.
The story started with the owner of Sin Ban Seong
Paper Products, who invited Louis to paint the murals after reading articles about his talent from The Star and Kwong Wah newspaper. The project involved four murals altogether but so far, only three has been completed.
We can't help but to feel so proud of him! He is truly an inspiration to all! :)
1. Brother & Sister On A Swing
Location : Chulia Street Ghaut (at a back alley of a printing warehouse)
Our favourite mural depicting a pair of siblings on a swing is located on the wall of the printing warehouse.

Do keep your eyes wide open or you might miss the mural since it is located inside the once nameless back lane which is now famously known as the "Step By Step Lane". We have a feeling that the name was inspired by the printing firm since they both shared the same initials of SBS. Sin Ban Seong and Step By Step...Get it? ;)

Did you also know that the children depicted on the mural are actually children of the printing firm's owner? Well, now you know! ;)
2. Children Playing Basketball
Location : Chulia Street Ghaut (at the back of the old Kwong Wah Yit Poh building)
This mural is directly across the road from the "Brother & Sister On Swing" mural. It is painted on the wall behind the old Kwong Wah Yit Poh building and it depicts two children enjoying a game of basketball.
3. Nostalgic Meal Order
Location : Kinta Lane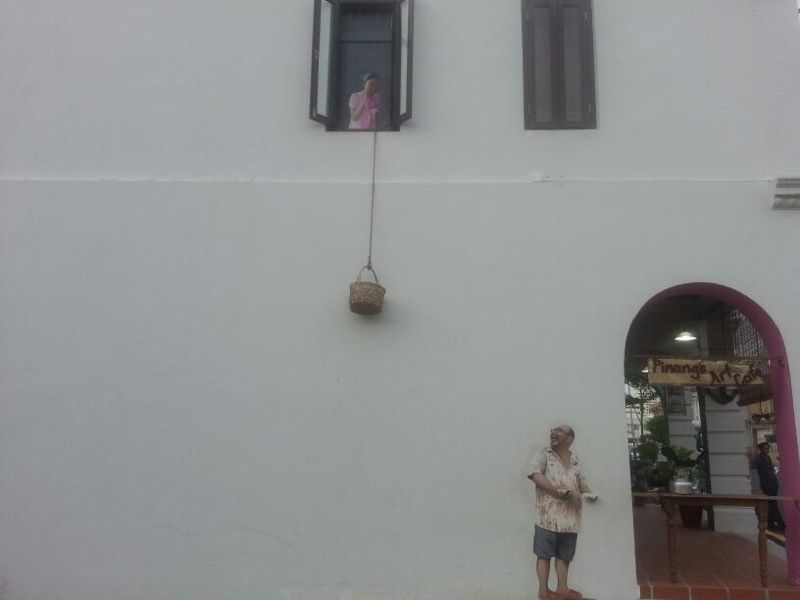 This cute mural is located further away from the previous two. It graced the wall of Pinang's Art Café at Kinta Lane and depicts a girl lowering her basket from the second floor to order noodles from the hawker below. This is apparently how the early 20th century people did their shopping!

Do slow down if you are in the car because the mural is on the opposite side of the one way street.

One fun fact to share...the hawker in the painting is actually the Curry Mee seller in New Lane, which is just on the opposite road! We overheard this from a tourist guide so do let us know if you manage to spot him there! ;)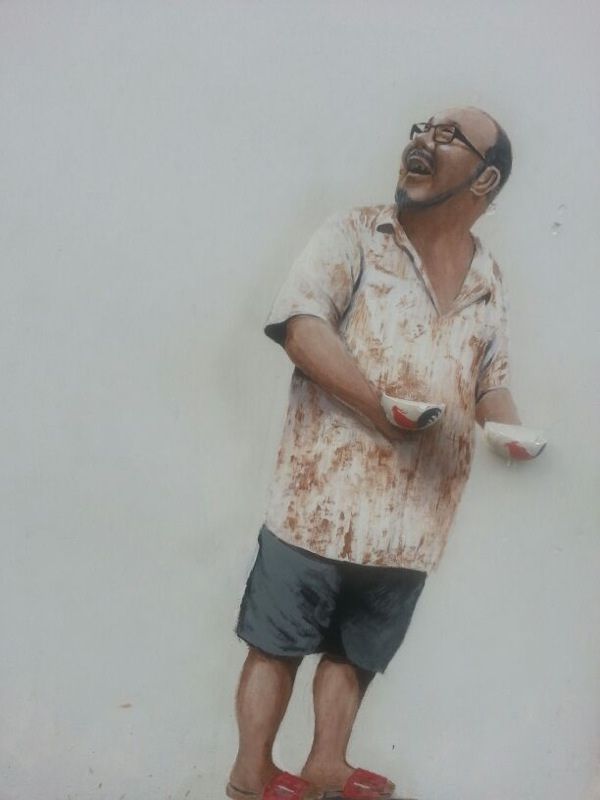 Here's a friendly and printable map from us for your easier reference. Enjoy roaming the streets of Penang treasure hunting for these creative murals!
*click to enlarge*