1. Jihachul App on iOS / Android

Download the Jihachul App on your smartphone because we survived the Korea subways using this super convenient and useful app! It's easy to use and saves a lot of your time!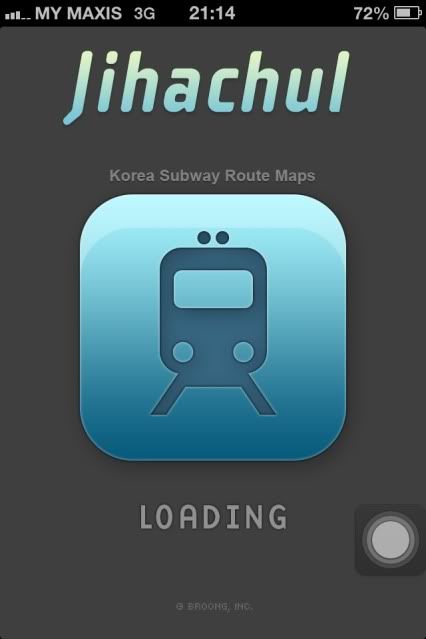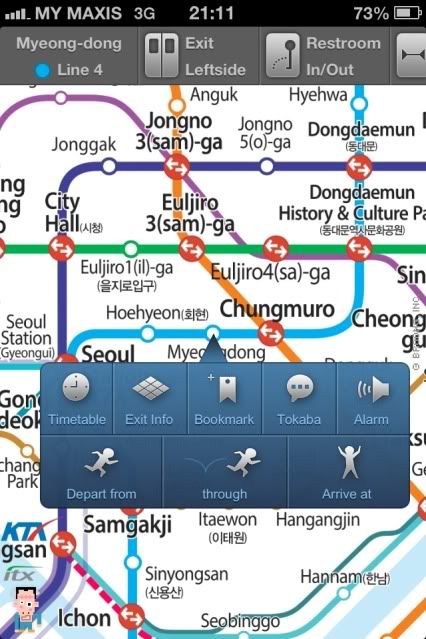 All you need to do is put in the station that you are departing from and the station that you are arriving at. It will do the rest for you!
The fastest route, the colour of the line that you're suppose to take, ETA and the amount of fare are all now at your fingertips! :)
2. Purchase the T-Money Card
Once you touch down Korea, you should purchase the T-Money card for KRW2,500 at any of the convenience stores to save all hassle of buying a ticket when using the subways or buses. It can also pay for the entrance fees to certain places of interest like the palace and the museum. We top up ours for KRW40,000 and it lasted us through the whole 7 days trip.
Do take note that the remaining balance on the T-money card can be refunded after a KRW500 service charge deduction!
Head over to their official site at
Welcome to T-Money World
for more information! :)
3. Learn a few basic Korean words.

The ones we found most useful are:-
Toilet - Hwajangshil
Water - Mool ( Just think of a cow moo-ing)
Thank you - Kamsahamnida
Expensive - Bisayo
Right - Oo Reun Jjok
Left - Oen Jjok
The last two proved to be really useful when we are asking for directions. Although the Koreans may know some English, we notice that they have trouble in differentiating from left to right using English.
4. Do not be shy to ask for directions
From our experience, the Koreans are really friendly and helpful. We have met people who would go the extra mile just to help us out instead of replying us with a simple "I don't know". They would google for the directions from their smart phones and some even went as far as calling up the place to ask where they are located so they could direct us there!
Always ask the younger generations for directions as the older generations are most likely to avoid you because to them, you are speaking alien. Hence, the misunderstanding that Koreans are rude and unfriendly :(
5. Free Volunteer Tours
At one point of time, we thought of having a tour guide who is familiar with Korea to take us around. If you search online, there are a few volunteer tours that will pop out but the one we found most cost saving after a research is The Meteor Youth Voluntary Club
.
Unlike other volunteer tours, there are no fees involved other than your personal expenses such as transportation fees, meals, entrance fees and money for shopping. The guides are solely responsible for his/her own expenses! :) They also have guides who are fluent in English, Chinese and Japanese.
Do register early at Meteor Youth Voluntary Club to grab yourself a tour guide! Not only do you get to tour around Seoul for free but you would also gain yourself a new Korean friend!
Unfortunately, they were unavailable at the time we were visiting so we never did get to try out their tour. Share with us your experiences if you manage to get them for your trip to Korea! ;)

6. Be a smart consumer

If a menu does not state the prices, please ask before ordering even if it's just a street tent stall. Do not assume that all street stalls are of the same price. Some may take advantage of your ignorance and charge sky high prices -___-
7. You may use the elevators in the subway stations

If you are taking the subways to the airport or to the hotel, do not turn green or panic if all you see is a elevator sign for the disabled and a very long flight of stairs. You are allowed to take the elevator even if you are not disabled because we were led to one by the station officer when he saw us with our luggages :) :)

Also, do not get frustrated if the elevator doors did not close even after you've pressed the button. It takes a while for the door to close because the elevator is disabled friendly so be patient, guys!

8. Discount vouchers

There are discount vouchers that can be printed out online but do read the fine prints as a lot of them required a certain amount of spending in order to enjoy the discount and print out only what you need. Please save the trees, people!
9. Free hanbok rental
You can't say you've been to Korea if you haven't tried on their beautiful Hanboks at least once! Based on our research, here are a few places that you can try it on for free! :)
i) Ssamziegil Shopping Mall @ Insadong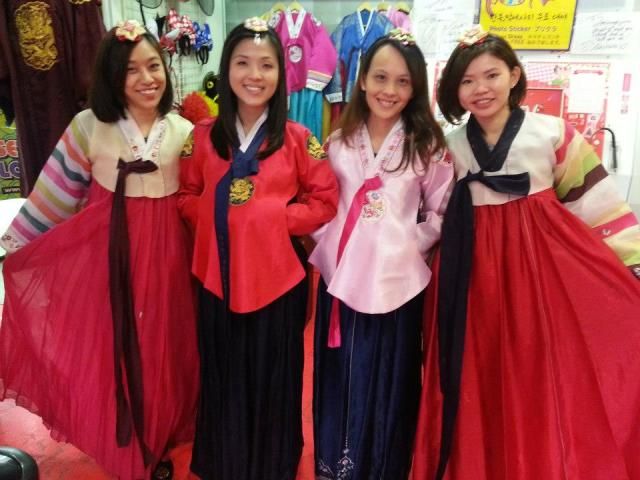 This is a cute sticker shop with a cute owner that allows you to try on the hanboks and pay a minimal fee of 5,000 - 7,000 won for the stickers to bring home for memories!
Directions to the shop
Keep walking all the way to the top until you reach a pathway full of locks and love notes all over the fence. Take the stairs down and you will see the shop which is located at Level 2! :)
ii) M Plaza @ Myeongdong
The Seoul Global Culture & Tourism Centre is located on the 5th Floor of M Plaza. Just register, wait for your time slot and your hanbok experience is done! We didn't try this one so if any of you have been there before, do leave us a comment and tell us your experience! :)
Directions to M Plaza
From Myeongdong Station (Subway Line 4), Exit 4.
Go straight for 150m to arrive at M Plaza on the right.
Or
From Euljiro1-ga Station (Subway Line 2), Exit 5.
Go straight on Euljiro Street, and turn right onto Myeongdong 9-gil Street.
Turn right onto Myeongdong 9ga-gil Street.
Turn left onto Myeongdong 7-gil Street.
Go straight for 300m to arrive at M Plaza on the left.
10. Be early and do your tax refund
Always, always make sure you are early to the airport and have enough time to check in your luggages and do the tax refund. Please also be reminded that the Incheon International Airport is huge and it takes a train to get to one terminal from another. Make sure you manage your time properly because trust us, running to catch a plane is no walk in the park! haha
Learn more about Tax Refund in Korea here!