You can never take Penang away from a Penangnite.
Recently, a friend highlighted that fact to us and being a true blue Penangnites ourselves, we couldn't agree more.
As such, we would like to take this opportunity to share with all of you, the beautiful and creative murals and artworks that have been gracing all over Penang since last year in conjunction with the yearly Georgetown Festival.
The recent one being the
101 Lost Kittens Project
.
The 101 Lost Kittens Project is created by Artists for Stray Animals (ASA) which consists of
Natthaton Muangkliang from

Thailand

and our very own Ang Yeok Khang from

Bukit Mertajam

and Louise Low from

Kuala Lumpur

in hope to create more awareness towards stray animals.
True to its name, there are a total of 101 strays, all but one being cats depicted in the 12 artworks with one bonus Giant Rat mural found all around the heart of
Georgetown
,
Penang
. The paint used for the murals are environmental friendly paint and it will eventually be washed off in two years time. As such, do quickly pay them each a visit or you are guaranteed to regret it once it's gone!
Don't say we didn't warn you! ;)
1. The Real Bruce Lee Would Never Do This
Location : Back alley of Ah Quee Street and Beach Street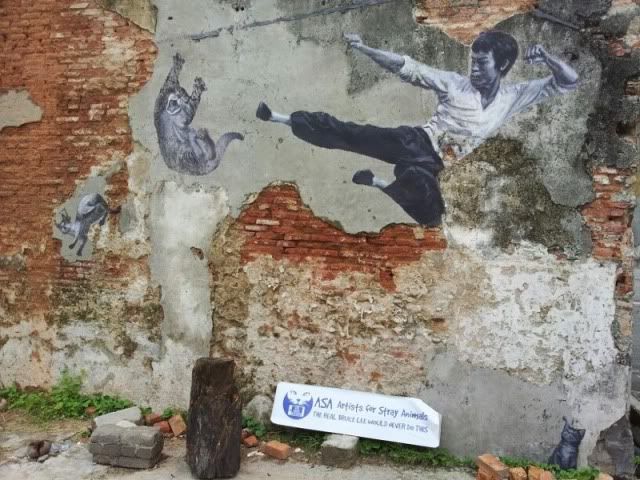 This is the funniest and cutest one! Please do not misunderstand as this mural is not intended for people to emulate, but rather to remind the public to treat the stray cats better. The mural is just behind the famous Ernest Zacharevic's "Boy On a Motorbike" and "Boy With A Pet Dinosaur" murals. A friendly tip, do look for the kitten on the right hand corner as a lot of people, including us, missed it! :) Luckily we have a picture of it!
2.

No Animal Discrimination Please
The mural is supposed to promote equal treatment for pets, whether they be cats or dogs. It depicts three stencil cats walking over a colour pattern of a dog.
The mural depicts a cat prancing upon a rat and is intended to generate a desire among the locals to keep cats as pets, as they bring along the benefit of keeping down household rodents.
4. Cats & Humans Happily Living Together
Location : Cheah Kongsi (Enter from Armenien Street)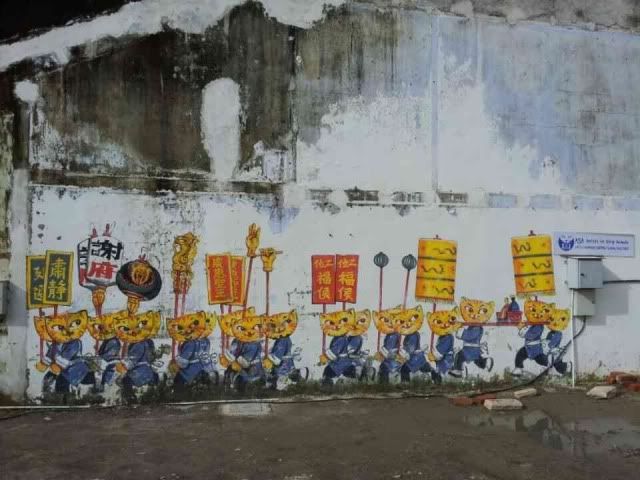 The mural depicts the procession of Taoist deities where the people are replaced by cats. It can also be seen from Beach Street but you can only enter the temple for a close up shot through Armenien Street.
5. Cats Walking For Animal Awareness
Location : Along the back lane walls of the Beach Street Fire Station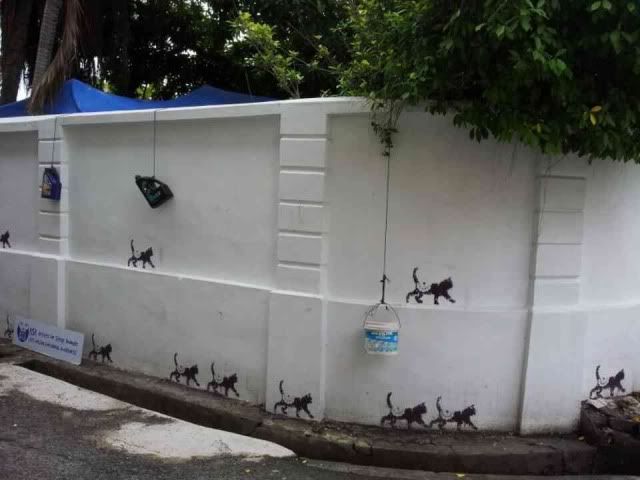 The mural depicts a parade of cat stencils along the wall of the Beach Street Fire Station, through the backlane of Beach Street until Victoria Street.
6. Skippy Comes To
Penang
The gigantic cat mural is inspired by a cat with a deformed leg named Skippy, who now resides happily in Bon Ton Resort, Langkawi. She used to be a stray until she was rescued by the co-founder of Langkawi Animal Shelter and Sanctuary (LASSie).
Lurking around the corner of the adjoining wall is The Giant Rat mural (Bonus Artwork), looking as if it is getting ready to pounce on Skippy, the Cat! :P A friendly tip, stand at the right angle and you can take picture of both the cat and the rat together. It would look as if they are looking at each other.
8. Please Care & Bathe Me
Location :
Armenien Street
Ghaut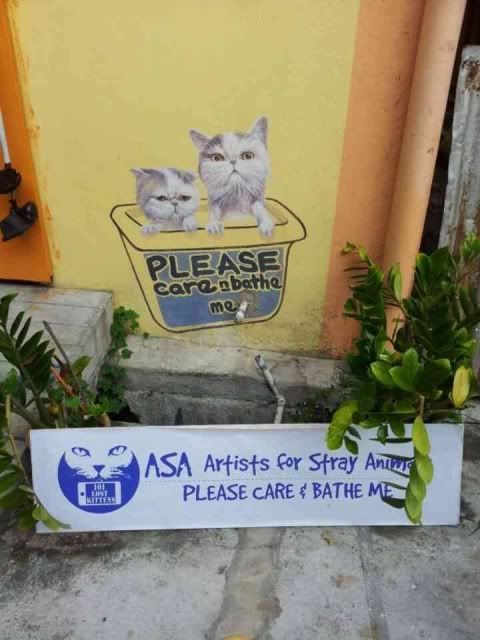 This cute mural is located at the alleyway where the Giant Rat is situated and it's painted on the yellow wall behind the Singapore House.
9. Love Me Like Your Fortune Cat
Just walk further down and you can spot this mural on the wall of a coffee shop. The mural
depicts a cat gazing at a group of "fortune cats", perhaps pondering why they have better luck than him.
10. Even If Handicapped, Still Love Me
Location :
Victoria Street, in front of China House
This Mama Cat Sculpture
depicts a disabled cat which is being carted on a trolley and it is intended to
raise awareness of stray animals and to take them off the streets.
11.

Take Time To Sit With Your Pet
Location : Victoria Street , in front of Sekeping Victoria
The artwork
depicts a wire-bound kitten walking on a wired sofa chair. The art piece is intended to create awareness among pet owners that they should spend more time with their animals.
12. Fine 500 for Littering
Location : Junction of
Victoria Street
(Just around the corner of the
CF Food Court
)
13. Shade Me If You Love Me
The intention of this artwork is to create awareness for people to adopt and shelter stray animals. Remember to look out for a colour wired cat on the top left corner too, which is unfortunately not in the picture!
Here's a friendly and printable map for your exploration, and d
o stay tune for our write-ups on the other murals, coming up soon! Cheers :)
*click to enlarge*