We discovered the first garden, Ah Soh's Garden by accident during one of our murals hunting trip and were surprised to find out that there are actually more places like this in Penang! In conjunction with the Georgetown Festival 2013, there are actually ten "Secret Gardens of Earthly Delights" scattered all over Penang, waiting to be discovered! However, as of now, only 8 are fully completed. Since there isn't much information provided online, let us the Lady Travel Bugs be your guide once again and reveal the secrets! :)

1. Ah Soh's Garden by Alex Lee
Location : Along Weld Quay (directly opposite Liva Seafood Restaurant & Shell Petrol Station)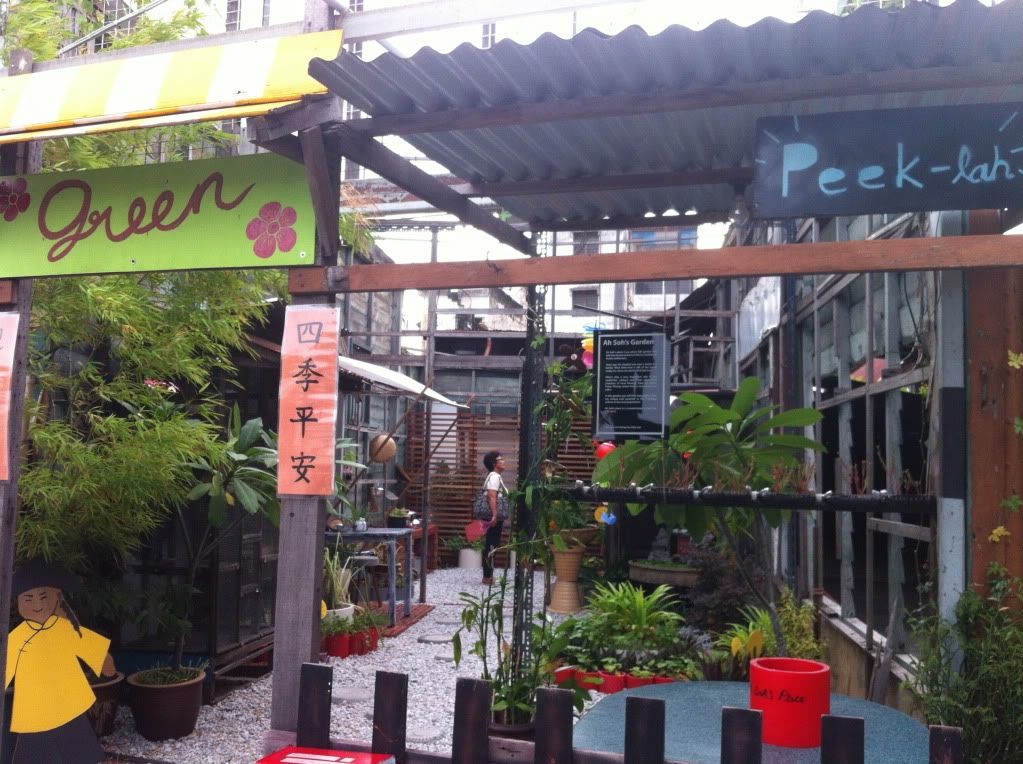 This is, by far the best and our favourite garden and it sets a really high expectation among all. We first discovered the garden at night, after the Victoria Street Project and had the opportunity to meet the Ipoh-based Alex and his parents, who are really nice and friendly. The Mom even helped us to take photos and give us tips on the best angles to take them! ;)
Sadly the pictures didn't turn up so good at night so we went back another day to take a good look around. From an abandoned housing lot at No. 41, Weld Quay, Georgetown, he managed to transform the whole place into a cute garden with settings of the old traditional kitchen. Really impressive!
2. Metal and Air by Wong Keng Fuan
Location : Junction between Kapitan Keling Road & Carnavon Street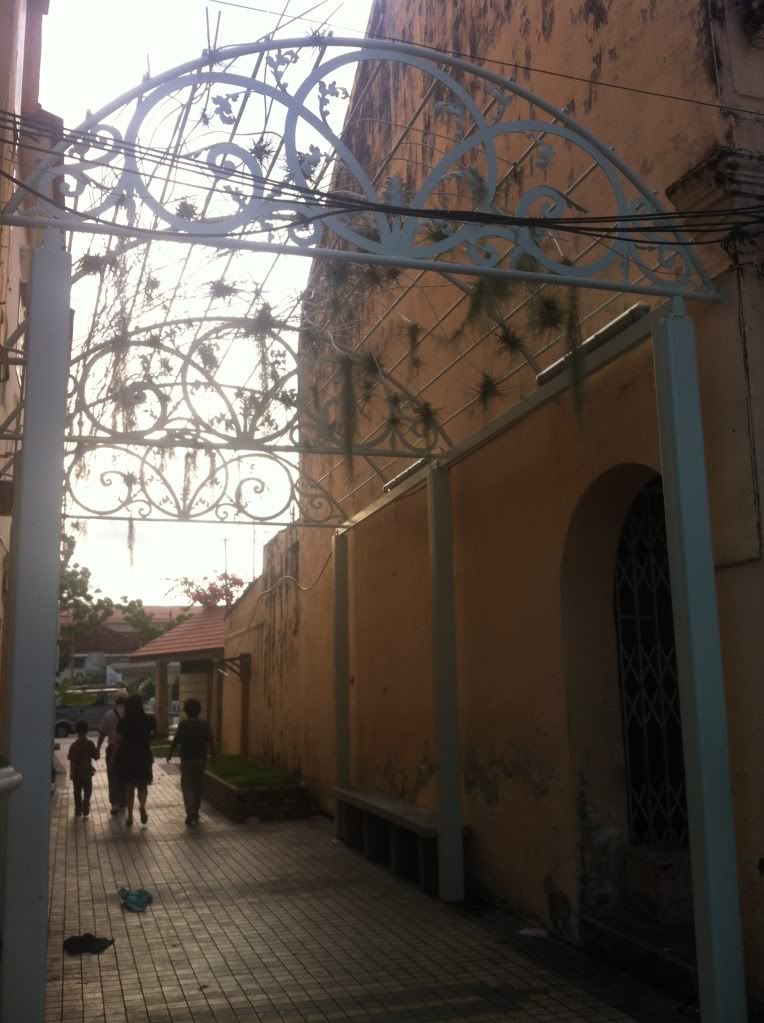 Sad to say, there's no proper upkeep of this arch built between two shop houses and by the time we were there, the air plants were all dried up and dead :( If we have not read it online, we wouldn't have known that it is a part of the project as well.
3. Mosaic Koi Fish Pond by Adam Michalski
Location : Along Jalan Kampung Kolam, at the start of Carnavon Street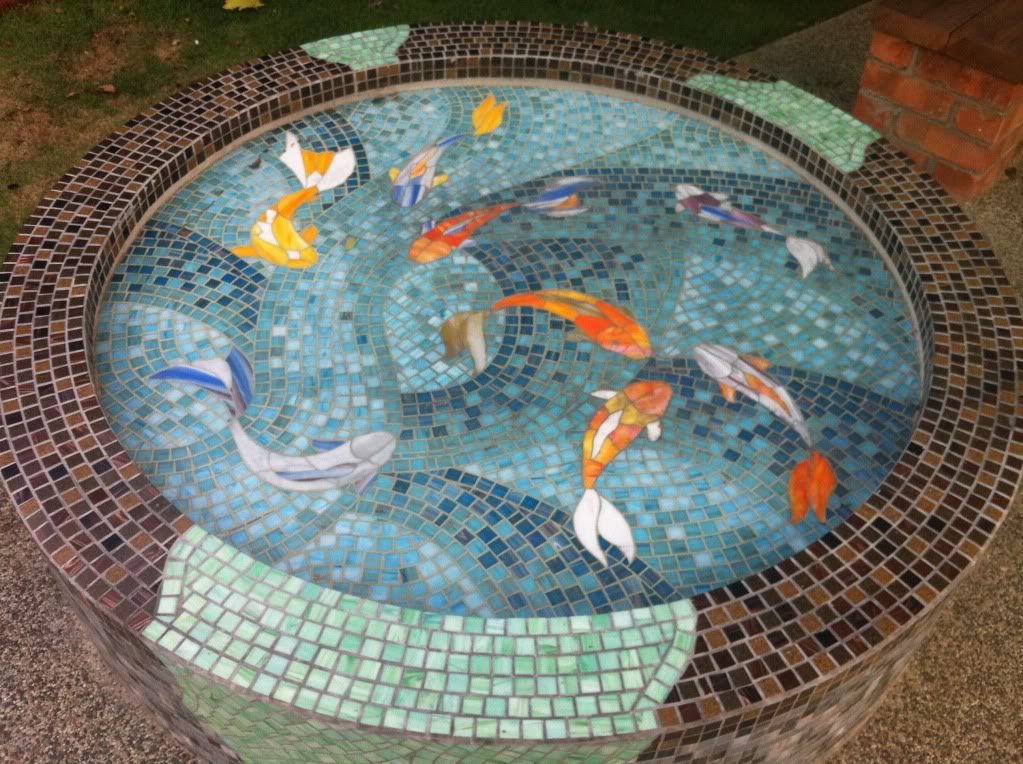 An easier way to get to this is to go through the archway of Metal and Air above. Go all the way straight and you will see this artwork on your left, facing the road. This would be the second best Secret Garden that we discovered because the mosaic pond that contains the 8 art glass koi fish is simply breath taking! They look so real as if they are about to jump out! ;)
4. Theater of Ships by Joko Dwi Avianto
Location: Esplanade, between the City and Town Halls
At first, we would thought that the building was going under some construction. Imagine our surprise when we found out that it's also part of the Secret Gardens Project! One cannot help but to stop and admire in awe the structure which was shaped as boats using interwoven bamboos. It's something different, something unique, something worth seeing!
5. Fireflies at River Lallang by Vin
The concept was really interesting in that he created an imaginary river of ornamental grass consisting of lallang, cat whiskers, angel flowers, reeds and other willowy plants under a bridge. At night, the fibre optic lights would light up as if they are fireflies. However, sad to say, we felt that the place wasn't lighted enough and it didn't look as beautiful as what we had envisioned it to be. It's also hard to take photos as it was not lighted up enough at night as can be seen in the above picture!
6. Love Garden by Pe Yang Teng & Cassandra Chilton
Location : Along Love Lane
We had a bit of trouble locating this urban setting garden as it's located in one of the small lanes along Love Lane. The lane is situated near to the Chulia Street junction. Just spot the blue lines design on the lane and it will lead you straight to the garden!
Alternatively, you can also access the garden through the open air car park of Reggae Mansion. Just walk in and the garden is located on the right hand side! The chairs will be blocked by the partition if you enter from there, so keep a lookout!
7. The Last Tree by Low Chee Peng
Location : Corner of Armenien Street & Beach Street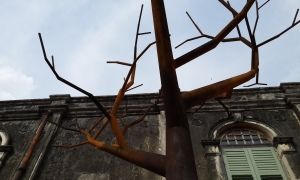 Somehow, we either missed this or walked passed it without knowing it's part of the Secret Garden series haha If we are not mistaken, this is located directly opposite the "Children On A Bicycle" mural. The photo above is taken from the
George Town Festival
website. It depicts a tree with branches and is made from oxidized steel and cultured marble.
8. Oro Tonu by James Rickard
Location : MPPP Town Hall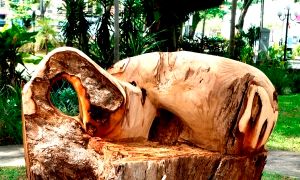 This is located nearby the "Fireflies at River Lallang", just cross over the bridge and you will be able to spot it. We were there during night so we also missed this one out...So near yet so far! haha This piece of Angsana wood was retrieved by the City Council workers in late May. To give 'life' to it, James carved it into a shape of an anchor and hence, the name "Oro Tonu" which means "to give life to something that is nearing the end of its life". The photo above is also taken from the
George Town Festival
website.