Ernest Zacharevic.
The creator. The pioneer. The sifu.
Thanks to this talented Lithuanian who started the mural madness in Penang in conjunction with last year's Georgetown Festival 2012, we have more and more murals gracing all over Georgetown, Penang. Most of the photos here were taken last year and it's sad to see that some of the "Mirrors of Georgetown" murals have already disappeared :(
Do hunt for them now if you have yet to do so...Trust us, you won't regret!
1. Reaching Up
Location : Cannon Street
2. This Old Man
Location : Armenien Street
This is the very first mural painted in the streets of Georgetown, Penang and it depicts Ernest's neighbour, Mr Ng Chai Thiam, the famous wooden blog painter in Penang. The mural is fading away fast so do go catch a glimpse of it before it's too late!
3. Children On A Bicycle
Location : Armenien Street
This mural is not only popular among the tourists and locals but also a hit with the vandals. There have been at least two occasions of vandalism, with the recent one being thrown with dhal curry. It's sad that we have senseless people like these running around and tainting our beautiful Penang!
4. Boy On A Motorbike
Location : Ah Quee Street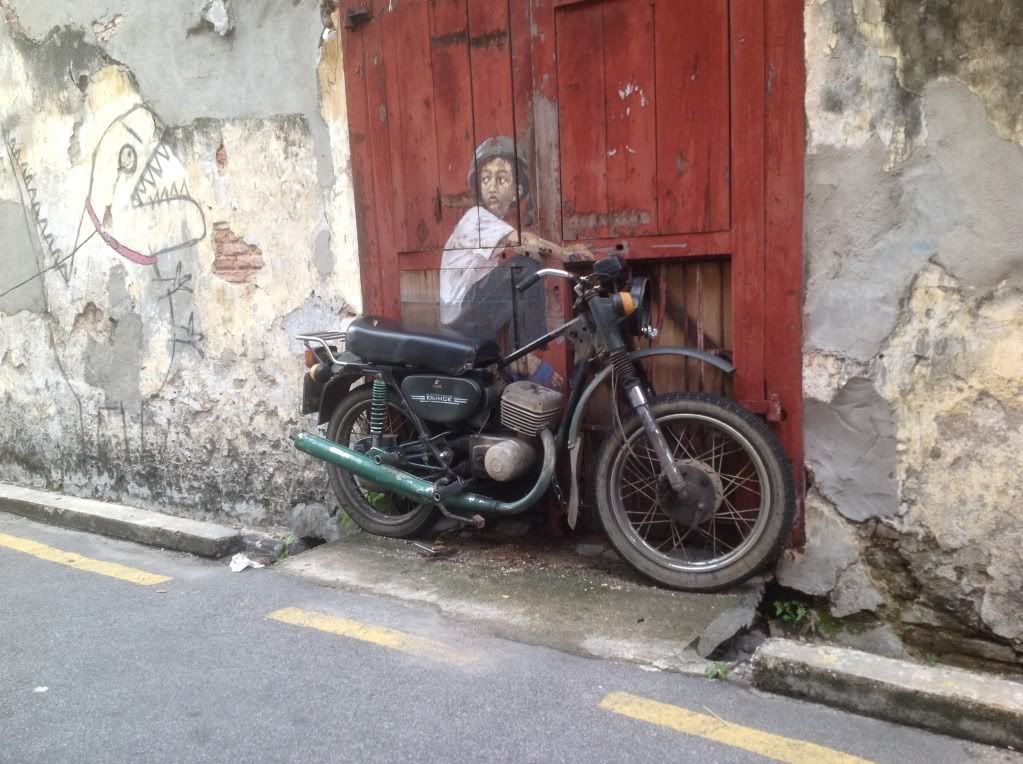 5. Boy With Pet Dinosaur
Location: Ah Quee Street
This mural is also fading fast with the boy's face and the dinosaur barely recognizable. Go quickly and catch them before they too, disappear!
6. Children On A Boat
Location : Chew Jetty
This mural has peeled off sadly, leaving only an outline of where the mural used to be and the above photo as memory. Due to weather condition and the fact that the mural was facing the sea, it faded even faster compared to the others :( As it can be seen from the photo above, the cats have already started to fade since then.
7. Little Girl In Blue
Location: Muntri Street
8. The Trishaw Peddler
Location : Penang Road (facing Red Garden Food Court's Carpark)
9. Despicable Me Minions
Location : Soo Hong Lane, off Armenien Street

This is the latest 2013 artwork done by Ernest Zacharevic, painted on a concrete traffic bollard to "celebrate" the minion craze. We were surprised how much this craze affected the Penangnites although we still could not understand it till today. Google or YouTube McD Minions in Penang to see it for yourselves! ;)

Honestly, we were a little bit surprised that this was done by Ernest, the very same artist who did all the above murals. We couldn't help but to wonder if he did this hurriedly in the middle of the night with no lights? Don't get us wrong, we have nothing against him or the Minions! We just have a very high expectation of him and this just falls short compared to all his other artworks!
10. Broken Hearts
Location : Junction of Love Lane, facing Chulia Street
We have no idea what happened but this is no longer where it is supposed to be. Does anyone here know what happened to this beautiful piece of artwork? Please let us know! For now, the above photo is the only proof we have of its existence!
And finally, our very own printable map :)
*click to enlarge*